Although you may be able add boat insurance under your homeowners' policy, your coverage will be limited to damaged caused when the watercraft is stored on your property, not when you are out on the water.
Florida does not require boaters to carry insurance on their watercraft before taking it out on the water, but it is a wise decision to carry it in the event that there is an accident, or something happens to your boat.  Boat and watercraft insurance is relatively affordable; a small addition to your other monthly coverages.  With insurance, you can be rest assured that your watercraft is protected from bow to stern.
Common Types of Boats and Personal Watercraft (PWC) Covered
Powerboats – Powerboats are the most common type of insured boat and are typically used for fishing, cruising, pleasure activities, water sports, etc.
Sailboats – A boat that uses at least one sail for power, but may also have a motor as an additional or back up power source.  Having a motor on your sailboat may increase your premium.
Houseboats – These are usually much larger boats that are designed for slower movement and have full kitchens, bathrooms, bedrooms and other common areas.  Houseboats used as a primary residence cannot be insured on a boat policy, but rather are insured with a Homeowners' or Renters insurance policy.
Bass and fishing boats – These boats are specifically insured to include coverage for their modifications or special features designed for fishing, such as trolling motors, power poles, fish finders, etc.
Pontoon boats – These boats are built on hollow metal cylinders with flat surfaces to walk or sit on, and are typically designed for slow movement on inland lakes and rivers.
Personal watercraft – Personal Watercraft (PWC) include jet skis, sea doos, waverunners or similar vessels that are built for carrying one to three people.
Types of Boat or Watercraft Insurance Coverage
Bodily Injury and Property Damage Liability –  This pays for damages to other's property you cause while on your boat or watercraft.  This includes damage to things other than their watercraft, and injuries to the other boater and their passengers.  This will also pay for legal expenses if you are sued.
Comprehensive & Collision – This pays for the repairs if your boat is damaged in an accident, storm, fire, or other covered event, minus your selected deductible.  This coverage also protects against theft. Some carriers also include pet coverage, so if your four-legged friend is on board, they will be protected against injuries too.
Uninsured/Underinsured Boater Insurance – This works the same for boats and watercraft as it does for vehicles.  If you are in an accident with another boat or watercraft and they do not have any insurance (or not enough coverage), this coverage will help pay for your repairs.
Medical Payments – This will help pay for the medical costs incurred by you or your passengers from injuries sustained in an accident while on your boat or watercraft.
Add-On Coverages for More Protection
Total Loss Replacement – This coverage is designed for newly purchased boats under a year old.  If it is totaled within 5 model years, you will either be paid the original value of your boat or enough to purchase a new, similar model.  If you are outside the 5 model year window, you can still receive the original purchase price of your boat, not the depreciated value.
Water Towing – This includes coverage for on-water towing, jump starts, soft un-groundings, and fuel delivery if your boat becomes disabled on the water.
Full Coverage for Fishing Equipment and Carry-On Items – This covers up to $10,000 for the full replacement value of fishing equipment and up to $5,000 coverage for the full replacement value of personal items brought on board, such as your cell phone, scuba gear, coolers, or other belongings that are lost or stolen.
Mechanical Breakdown Coverage – This coverage is to repair or replace the lower unit of an outboard motor, or the upper and lower units of an inboard/outboard motor if you have any type of mechanical breakdown, including from general wear and tear.
Trailer Trip Interruption – With this coverage, your day won't be ruined.  Should your trailer or towing vehicle break down, and you are more than 100 miles from home, you will be reimbursed up to $500  for your hotel stay, meals, and other transportation costs.
Small Accident Forgiveness – Your premium won't increase after a claim of $500 or less.
Large Accident Forgiveness – Your premium won't increase after a claim of $501 or more.  Additional conditions may need to be met, depending on the carrier, in order to qualify for coverage.
Fuel Spill – This coverage option will pay the cost of cleaning up a fuel spill caused by your boat or watercraft.
Wreckage Removal – Accidents can happen, and if your boat sinks, the cost of removing your boat from the water (if removal is legally required) is covered under this insurance add-on.
Roadside Assistance – If your trailer or towing vehicle becomes disabled, getting towed to the nearest repair shop is covered.
Water Sports Coverage – This provides coverage for injuries or damages to property for which the boat owner is liable while tubing, knee boarding, wake boarding, wake surfing, or other similar activities.  Excluded activities include: parasailing, kite boarding, or other activities in which someone is pulled through the air.
Watercraft & Boat Insurance | Fast & Easy Quote | Trusted for 30 Years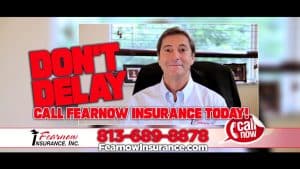 Boat Insurance Quote from Tampa's leading agency Fearnow Insurance. Marine & Watercraft protection, 30 Years in Tampa, Brandon, Seffner area
Service Type: Boat Insurance
Price: $$
Currency: USD