Any mechanic or auto repair shop knows that their line of work presents a unique set of hazards and liability.  It is important to be properly covered with the right types of Garage insurance.
Types of Garage Insurance
Common types of Garage insurance include:
Tow Truck Insurance
Body Shop Insurance
Repair Shop Insurance
Muffler Shop Insurance
Radiator Services Insurance
Transmission Shop Insurance
Your job is to keep your customers on the road; our job is to help keep you in business.  Auto repair shops can pose an interesting approach to insurance because of the particular insurance needs.  Not only do you need to protect against guaranteed road-worthiness of the vehicles you work on, you also need to protect your shop, tools, and employees.  With the right insurance for your business, you can ensure that your repair shop continues to run smoothly.
Common Risks Associated With Auto Repair Shops
Auto repair shops have several concerns similar to that of other businesses, but they also have other considerations that are specific to their industry only.  Many of the common risks associated with auto repair shops that the right insurance plan can help protect against are:
Faulty workmanship or parts

Fire, bad weather, vandalism, or theft

Damage to a customer's vehicle while in your care

Employee theft or other crime

Business interruption or loss of income if shut down
Types of Insurance an Auto Repair Shop Should Consider Having
Garage Liability Insurance (Business Liability)
Garage Liability insurance is a specific business liability policy designed to protect auto repair shops from lawsuits or medical cost of an individual who is injured while at the shop.  Auto repair shops differ from other businesses in that the injuries sustained and the risk for injury are different than a regular office building would have.  A Garage Liability insurance policy is designed with your specific business needs in mind.
While liability insurance will protect you from lawsuits or injuries, you still have to take into consideration your need to protect the vehicles under your shops care.  You can choose coverage ranging from protecting against only what you are legally responsible for or you can select coverage that protects the value of the vehicles regardless of the liability your shop holds.  The more coverage you want, the more your premium will be; however, offering full coverage to your customers can make a great selling point!
Auto repair shop employees are going to get behind the wheel of the vehicle they are fixing, either to figure out what may be wrong or to ensure that the fix is complete.  Business Auto insurance helps provide coverage should your employee be involved in an accident while road testing a vehicle under your care.  If your shop also owns a tow truck, coverage can be provided for the driver as well.  Some Business Auto policies may even provide coverage for an employee who is traveling to pick up auto parts or even lunch for the whole shop.
Business Interruption Insurance
Flooding or a fire can damage your shop, leaving you without a repair shop and your employees without a job.  Florida is home to a busy annual hurricane season and welding tools can pose a fire hazard for your shop.  Business Interruption insurance protects your business and employees should something happen that leaves you unable to open your doors for business for an extended period of time.  Business Interruption insurance, also known as Loss of Income insurance, can help you cover employee wages, pay business related bills (electricity, water, car part invoices, etc.), rent payment for your shop, supplies, and even taxes.
Workers' Compensation Insurance
If you employ four or more employees (regardless of part-time or full-time status), Florida law requires that your company carry Workers' Compensation insurance.  This insurance can help prevent lawsuits from your employees should they ever become injured on the job.  Workers' Compensation pays for the medical costs of job-related injuries and can provide additional benefits if the person is unable to work because of their injuries, and it pays the benefit regardless of who is at fault for the injury.  In exchange for providing this benefit, employees are unable to sue their employer for work related injuries.  Working around heavy machinery, slippery floors (if car oil or lubrication is spilled) and using dangerous tools, auto repair shop employees are at constant risk for a work-related injury.  Workers' Compensation insurance is worth the cost to avoid the risk of liability for those injuries.
Business Property Insurance
Auto repair shops contain a lot of valuable tools and inventory.  Protecting these alongside your storefront is just as important in the event of fire, storms, vandalism, theft, and accidents.
Property and Equipment Insurance
Property and Equipment insurance goes a step further than Business Property insurance to protect any special equipment your shop owns from damage caused by a power surge, mechanical breakdown or burned out motor, and even employee error.
Key Person insurance is essentially a Life insurance policy on a key employee (someone, likely yourself, the business owner, who without them, the business would likely fail).  The business is the policy's beneficiary.  Should the key employee pass away suddenly, Key Person insurance pays the benefit to the company, allowing the company to stay afloat during the loss of the main employee.  The benefit can be used to continue the business until a replacement is found or to pay off any outstanding debt, pay investors, and even supply a severance for the remaining employees while the business is closed down or sold.
Fearnow Insurance provides a unique ability to provide numerous services for our commercial clients, including auto repair shops.  In addition to our Business Insurance solutions, we also provide group and individual Health insurance plans, Life insurance, and Payroll Servicing.  Why pay several companies to do the job when you can save and use Fearnow for all of your business needs.
Frequently Asked Questions by our Auto Repair Shop Clients
Can I opt for Key Person insurance instead of Life insurance?  Key Person insurance is separate from a traditional Life insurance policy.  The business is listed as the beneficiary so that there are enough funds for the business to continue operation while the next in line takes over, or to properly shut down the business without leaving any outstanding debt; debt that creditors may hold against your estate, taking away from your spouse, children, or other beneficiaries.  It is important to have a separate Life insurance policy that lists your spouse or children as the beneficiaries, especially if they solely (or mostly) rely on your financial contribution to make ends meet.
If I am the only employee, do I need Key Person insurance?  If the company is a sole proprietorship and does not employ anyone who depends on the company for a job, then you can opt out of the Key Person insurance.  It is recommended to have in your estate plan how to close the business and distribute its assets or settle any outstanding debt related to your business.
If my employee has his own car insurance coverage, why do I need Business Auto insurance?  Just like Homeowners' insurance does not cover business related accidents, Personal Auto insurance will not cover damages caused by an accident when the insured is performing work-related tasks.  Whether your employee is test driving a client's vehicle or making a run for supplies, they are not covered unless you have Business Auto insurance.  In addition, the employee could file a liability lawsuit if you do not provide coverage and they are in an accident while performing a job task.
How much insurance do I need?  The level of coverage and types of insurance you may need can vary on the type of auto services you provide, the number of employees you have, the size of the shop, the number of locations you have, and more.  All of our agents are thoroughly trained and experienced to discuss your company's daily ins and outs to help you determine which Business insurance solutions will fit your repair shop best, and how much coverage you need.
Garage Insurance Quotes | Fast & Easy Quote | Trusted for 30 Years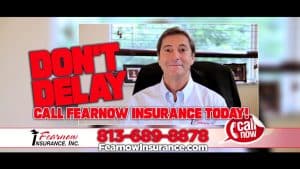 Garage Insurance Quote from Fearnow Insurance. Quality Garage protection that saves you money. 30 Years of serving Tampa, Brandon, Seffner area
Service Type: Garage Insurance
Price: $$
Currency: USD