General Liability insurance (GL) is often referred to as Business Liability insurance, and is designed to protect you and your business from a variety of claims including bodily injury, property damage, personal injury, and other issues that may arise from your business operations.
General Liability insurance usually includes coverage for:
Bodily Injury and Property Damage Liability – General Liability covers business related incidents that result in bodily injury to a third-party, or damage to property belonging to a third-party.  This can include a customer slipping and falling on your premises, or a contractor drops granite counter top, damaging both the floor and the new counter top.
Personal and Advertising Injury – Not all injuries are physical; written or verbal communications that cause harm can also be covered under your General Liability policy.  This includes statements of libel, slander, or copyright infringement of another person or business.
Medical Payments – This included coverage pays the costs of any non-employee medical or funeral related expenses for which your business is responsible.  Your coverage depends on your selected limits, so if the medical costs are more than your coverage limit, your business is liable for the remaining costs.
Products and Services – General Liability insurance coverage includes liability protection for both products and services competed.  Products are any goods that your business manufactures, sells, or distributes.  Under this coverage, a business is protected from damages that may result from a faulty product.  General Liability also extends coverage to services completed.  For example, in the event a plumber does not seal a newly installed drain, which then results in a flooded bathroom, then General Liability insurance would protect against the faulty workmanship.
Damage to Property You Rent – General Liability coverage typically includes coverage for damages to any non-owned land, buildings, or structures that are being rented by the business, and the business is legally liable for the damages.  For example, a contractor damages a rented tool by using it improperly; General Liability might cover the damages since the business caused the damage rather than the tool failing from regular wear and tear.
Who Needs General Liability Insurance?
Any business, in any industry, needs General Liability insurance.  In most cases, General Liability insurance can be customized to fit your business specific needs and risks.
General Liability insurance is often combined with Business Property insurance in a Business Owner's Policy (BOP), but it's also available to many commercial entities as a stand-alone coverage.
How Much Coverage Do You Need?
All coverage options are restricted to the coverage limits you select.  The amount of Commercial Liability insurance coverage you need depends on:
Your risk exposure:  The higher your risk, the more coverage you'll need.
Contractual requirements:  Certain employers or clients may require you carry specific limits of General Liability coverage before they allow you to work with them.
What General Liability Doesn't Cover
General Liability insurance provides a vast area of protection, but it doesn't cover the needs of all businesses.  Some areas not covered by General Liability insurance can be covered through other types of policies.  Some of those areas are:
Owned Commercial Property – Protection of equipment, inventory, and other assets is provided under a Business Owner's Policy (BOP) or Commercial Property insurance.
Employee Injuries – Coverage for your employees is required in Florida if you meet certain employee requirements.  You can only be protected from the liability of employee injuries under Workers' Compensation insurance.
Professional Mistakes – If you or your business provides a service or advice, you'll want to add Professional Liability insurance (or Errors and Omissions insurance) to your Business Insurance policy.
Commercial Vehicles – Vehicles used for business are not covered under a Personal Auto policy.  Protect your commercial vehicles, drivers, and your liability with a Commercial Auto policy.
Additional coverage options are also available.  Speak with one of our knowledgeable agents to learn about all of the types of insurance available for your business.
General Liability Insurance | Fast & Easy Quote | Trusted for 30 Years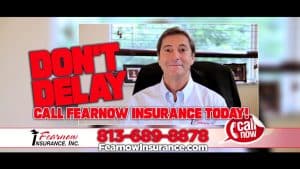 Fearnow has provided Church Insurance nationaly for almost 30 years with friendly customer support and policies you can trust | Easy Online Quote
Service Type: General Liability Insurance
Price: $$
Currency: USD