Recreational Vehicles (RV) are perfect for family vacations or a fun retirement alternative.  However you choose to use your RV, it is important to make sure that it and your belongings inside are well protected.  Recreational Vehicle insurance is the perfect solution to all of your concerns.
What Does RV Insurance Cover?
Overall, coverage will depend on the type of policy and limits you select.  RV insurance coverage options include liability, collision, comprehensive and more.
Types of Recreational Vehicles Covered
Motorhomes
5th Wheels
Travel Trailers
Truck Campers
Teardrop Campers
Popup Campers
Toterhomes
Toy Haulers
Truck Conversions
Park Models
Hybrid Trailers
Liability Coverage for RVs
If you drive your RV, rather than towing it, Florida law requires that you have Liability insurance on the RV.  The Florida state minimum requirement for liability coverage on a drivable RV are:
$10,000 in bodily injury liability per accident for one person
$20,000 in bodily injury liability per accident for all persons
$10,000 in property damage liability per accident
Additional liability coverage can be purchased for drivable RVs and is available for other types of recreational vehicles.  This type of coverage helps to cover the costs of accident-related expenses, including vehicle damage and personal injury.
Collision Coverage for RVs:  Collision insurance covers damages to your RV in the event of an accident with another vehicle, regardless of fault.  Collision coverage also covers you in the event your RV rolls over.  Also, if you are financing your RV, your lender may require you to purchase this insurance.
Comprehensive Coverage for RVs:  Comprehensive insurance covers non-collision damage to your RV from events such as vandalism, theft, falling objects, fire, storms or other weather-related events, and collisions with an animal.
Medical Payments Coverage for RVs:  Medical payments coverage allows for additional coverage to bodily injury payments for the medical costs incurred by you or your passengers, no matter which party is at fault for the accident.
Under-Insured or Uninsured Coverage for RVs:  Florida is one of the worst states for uninsured motorists, so it is important to consider coverage in the event that you are involved in an accident with such a driver.  Uninsured Motorist coverage will help to cover the damage to your RV if the other driver does not have insurance while Under-insured Motorist coverage helps to bridge the gap in expenses if the other driver does not have enough coverage for your repairs (or replacement RV).
Roadside Assistance for RVs:  The Roadside Assistance Program can help RV owners with flat tires, jump starts, or towing.  This program may include or allow for an add-on coverage for trip interruption expenses you incur (such as a place to stay or meals) if you break down over 50 miles away from home.
Towing and Labor Coverage for RVs:  Similar to Roadside Assistance, Towing and Labor coverage can help with towing and labor costs as well as trip interruption expenses.
RV Awning Replacement:  Coverage for the replacement and installation of a damaged awning.
Vacation Liability for RVs:  It is common for an RV to be used as a temporary residence while on vacation.  If someone is injured while in your RV or on your rented lot, this coverage provides protection from liability.  This type of coverage can also protect from other damages incurred while on vacation with your RV.
RV Safety Glass Replacement:  If your windshield becomes damaged and needs replacing, this coverage option will cover yours costs.
RV Coverage for Replacement Cost and Scheduled Personal Effects:  This coverage is available for both pleasure-use RVs and permanent resident RV use.  This type of coverage pays the replacement costs of lost, damaged, or stolen items from the RV in order to reduce your need to file a homeowner/renter insurance claim.
Recreational Vehicle Insurance | Fast & Easy Quote | Trusted for 30 Years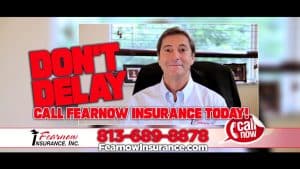 Recreational Vehicle Insurance Quote from Fearnow Insurance. Quality RV protection that saves you money. 30 Years of serving Tampa, Brandon, Seffner area
Service Type: Recreational Vehicle Insurance
Price: $$
Currency: USD