Dealing in the food industry by opening a restaurant is quite a risk, one that is stacked against restaurateurs.  According to a study conducted by the Ohio State University, 60% do not make it past their first year and 80% of those that do, don't make it past year five.  Owning a restaurant is not just a financial risk, it is also a liability risk, so it is important that your restaurant has proper coverage against lawsuits or damaged kitchen equipment.
There are a few considerations you should make prior to selecting coverage that can affect the type or amount of coverage you need.
Restaurant location
Size of restaurant
Size of business (single location or chain)
Types of food you serve
Number of employees
Type of equipment you use
Other property that is expensive to replace (devices at each table, televisions, decor, etc.)
Restaurant owners will need the following types of insurance coverage, some of which are designed specifically for their industry and risks:
 General Liability
General Liability insurance is important for any business owner, including those opening their own restaurant.  General Liability provides coverage against lawsuits and claims of injuries from customers.  Restaurants are high risk of slip and fall claims because spilled food and drinks can pose a risk for injury if they are not thoroughly cleaned up.  If you feel that the coverage level offered under General Liability is not enough in the event of a claim, you can also purchase Umbrella insurance, which will raise your coverage limits.
Property Damage Liability
Property Damage Liability insurance protects against damage to your restaurant after a fire, flood, or natural disaster.  Property Damage Liability can help cover the cost of repairs, paying vendors, and paychecks for employees.  In addition to Property Damage Liability, owners should consider adding Business Interruption insurance.  This insurance covers the loss of income resulting from a fire or other catastrophe that disrupts the operation of the business.  It can also include the extra expense of operating out of a temporary location.
Food Contamination
Sometimes food goes bad at a restaurant well before it should.  An employee may not properly store it, or someone may not lock the meat freezer.  However it may have happened, Food Contamination insurance will help cover the cost of damaged food, reducing the financial impact the loss has on your business.
Commercial Auto Insurance
If you provide delivery or catering services to your customers, then you need to make sure to opt for Commercial Auto insurance coverage in order to protect your drivers and your company from liability in the event of an accident.
Workers' Compensation
Customers aren't the only ones at risk for a slip and fall accident caused by spilled food or drink – your employees can become injured and unable to work.  To avoid liability for their injuries you will need Workers' Compensation insurance.  Workers' Comp is a type of Business insurance that is purchased by the employer that provides benefits to the employee in the event of a job-related injury, regardless of who was at fault.  Job-related injuries can include physical injuries, illnesses, and even some psychological or stress-related injuries caused by performing job tasks.  Florida law requires all employers to purchase Workers' Compensation coverage when they have four or more employees.
Key Person Life Insurance
If your restaurant would go under in the event of your death, then you may want to consider adding Key Person Life insurance to your business policy. Key Person insurance is a Life insurance plan but one in which the beneficiary is the business.  The benefit can be used to hold the company over until a new head employee is selected, or can be used to properly shut down the business and pay off any debt or employee wages.
Restaurant Insurance Quotes | Fast & Easy Quote | Trusted for 30 Years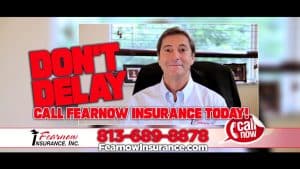 Restaurant Insurance Quote from Fearnow Insurance. Quality Restaurant protection that saves you money. 30 Years of serving Tampa, Brandon, Seffner area
Service Type: Restaurant Insurance
Price: $$
Currency: USD